Using Satake's state-of-the-art equipment, we can perform sorting and processing tests on all kinds of raw materials, including agricultural products, foodstuffs, and industrial products.
This section introduces sorting techniques to separate good materials from foreign and defective materials; "polishing and grinding" to clean the surface of materials; and "milling" to grind materials into powder.
By appearance
Optical Sorting
Optical sorting utilizes high-resolution cameras to detect foreign materials and defective products in raw materials and removes them with compressed air.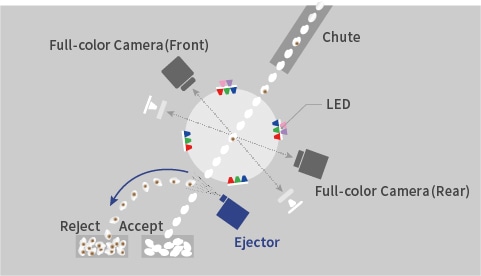 Chute type optical sorting
Each piece of material fed from the material tank and flowing down the chute is detected from both sides. Defective products and foreign materials are identified and ejected using compressed air.
Suitable materials:

Utilizing products:
Chute type optical sorters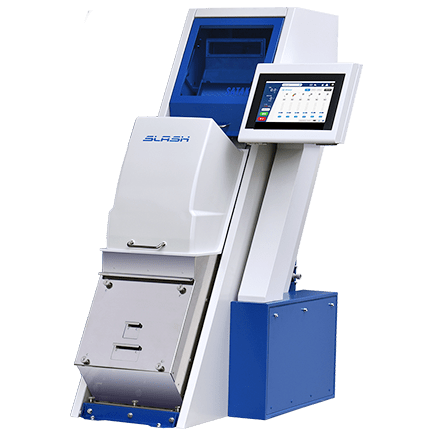 Continuous testing available
SLASH VQS Series
A fast piezo valve is used for the ejector to achieve more accurate sorting. The machine can also be used for a wide range of materials by attaching optional parts. SLASH is available in two types, and we conduct tests using different models depending on the nature of the test request. One type is the SLASH with secondary sorting. Secondary sorting is mainly used for sorting brown and white rice. The other is the primary selection type which can accommodate a variety of raw materials.
Optimal materials
Rice

Sesame

Plastic pellets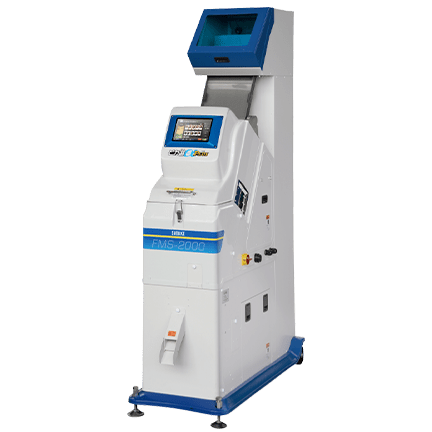 FMS-2000F
In addition to conventional color sorting, sorting defective products by shape differences is possible. The machine is capable of handling a wider range of raw materials.
Optimal materials
Vegetable seeds

Coffee Beans

Pet food

Plastic pellets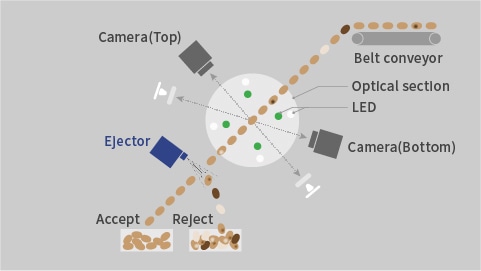 Belt type optical sorting
Material fed from the tank is fed by the feeder, passes through the slider to the belt, and then fed to the conveyor. Material fed to the optical section is checked by two full-color (or monochrome) cameras from above and below. Those identified as defective are blown into the defective port by compressed air from the ejector nozzles. Adoption of high resolution optics and a variety of sensitivity settings allow for highly accurate sorting.
Suitable materials:

Utilizing products:

Beltuza Spectra

Beltuza XeNo

Beltuza

Pellet Sorter DS

Pellet Sorter
Belt type optical sorters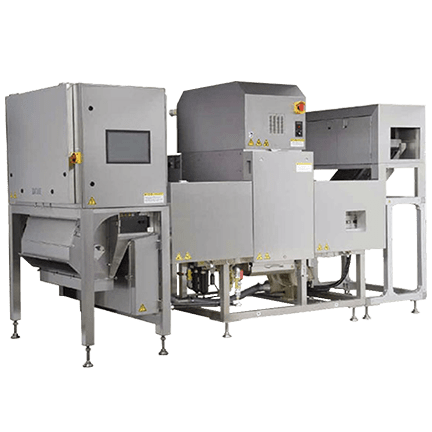 Beltuza Spectra CSX600BW
In addition to X-rays with various safety measures, AI, which learns characteristics through deep learning, identifies good products, insect damages, half-cracks, and doubles, one grain at a time. The 3S system (automatic sensitivity setting system), which performs 3D processing of image data from a full-color (RGB) camera, has been upgraded to two-wavelength IR imaging for even more accurate foreign material sorting. As described above, the system can be used for internal inspection (X-ray + AI), external inspection (RGB + shape), and material inspection.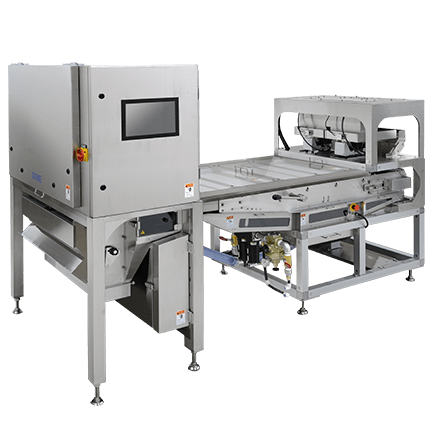 Continuous testing available
Beltuza XeNo CSV600BM
A full-color camera with bright, high color-rendering LEDs provide high color reproducibility, and the combination with NIR improves sorting accuracy for similar colors and different materials. In addition, the shape sorting function can sort and remove not only colored grains, but also crushed grains, bound grains, and other defective shapes by registering the good shape of the raw material. In addition, Satake's unique automatic detection line generation system, the 3S System, makes it easy to set up sorting for each raw material. The Beltuza XeNo is a versatile belt-type optical sorting machine for a variety of materials from beans to confectionery.
Optimal materials
Soybeans

Macaroni

Pet food

Resin pellets

Rice crackers

Snack foods

Gummi

Bouncy raw materials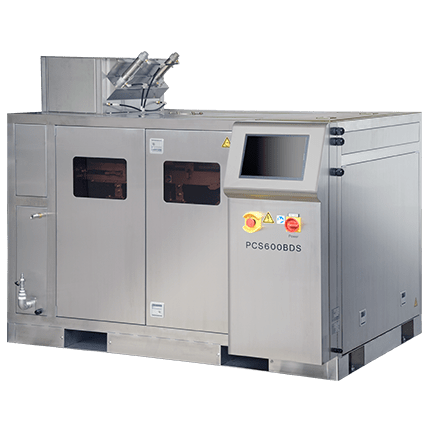 Continuous testing available
Pellet Sorter DS PCS600BDS
Adopts a conveyor belt system ensuring stable supply of materials and high accuracy sorting of minute defective parts. High-precision CCD cameras with a resolution of 0.06 ㎜ are positioned on both upper and lower sides, greatly improving the sorting accuracy of opaque materials. The CCD cameras on both sides check the material flowing from the conveyor belt, and defective material is sorted and removed by the ejector jet.
What is continuous testing?

Conduct continuous verification tests with large throughput. We will conduct a continuous verification test of sorting performance and quality according to the conditions of use after the introduction of the system. It can be well verified by degrees.
By shape and weight
Shape and specific gravity sorting
Shape sorting and specific gravity sorting are technologies which sort materials by their differences in shape and specific gravity.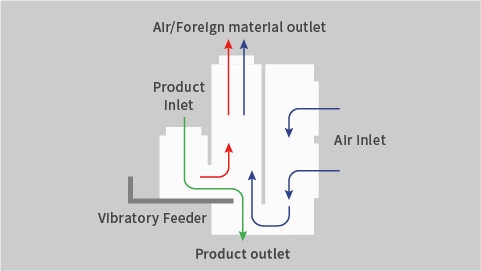 Sorting with air pressure
Light foreign matter and dust are sucked out of the upper part of the machine, while heavy materials are discharged from the lower part.
Suitable materials:

Utilizing products: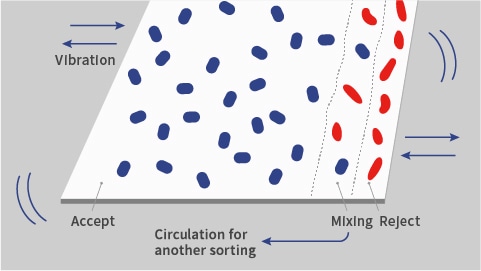 Oscillating separation
A plate with specially shaped indentations is oscillated to sort material by specific gravity and shape. Suitable materials such as continuous grains and whisker products are removed. The system sorts out and removes defective products that differ in size or shape from the rest of the product.
Suitable materials:

Utilizing products:

Deformed Plastic Pellet Sorter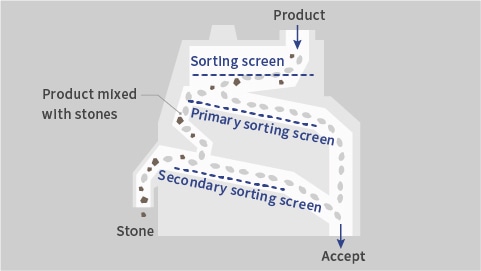 Specific gravity sorting
Screens are used to efficiently remove stones and large debris.
Suitable materials:

Utilizing products:
Utilizing products of shape selection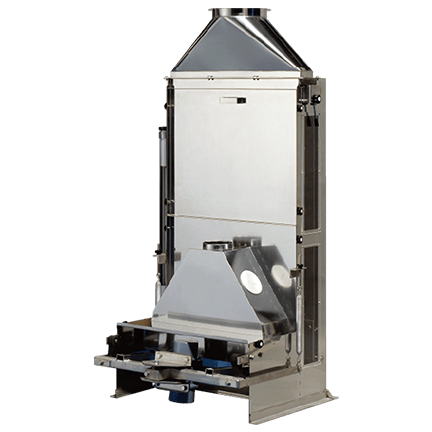 Leg aspirator SLA750AS
Wind power is used to sort and remove light particles and dust from raw materials.
Optimal materials
Coffee beans

Corn

Crushed bumper products

Corn flakes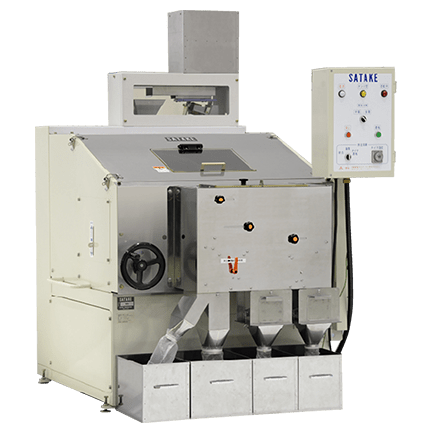 Deformed Plastic Pellet Sorter PS304F
Removes irregularly shaped products from raw materials by swinging the indented sorting plate. I will do so.
Optimal materials
Resin pellets

Plastic pellets

Beads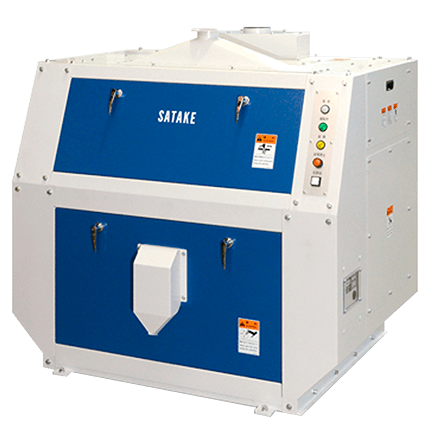 Destoner GA500BS
The secondary sorting mechanism has been adopted to achieve both improved sorting accuracy and a reduction in the number of products discharged from the machine. Since the machine is equipped with a coarse and metal sorting function, large foreign objects and metals (iron) can be removed by means of a fine sorting screen and magnetic rods.
Optimal materials
Coffee beans

Soybeans

wheat
Polishing & Sharpening
Grinding & Polishing
The surface can be polished or ground to remove stains and paint. Cleaning the surface allows the use of recycled materials, improves the quality of recycled resin (pellets), and reduces the use of virgin raw materials. In addition, cleaning the surface of the grain material contributes to a shiny finish and improved shelf life.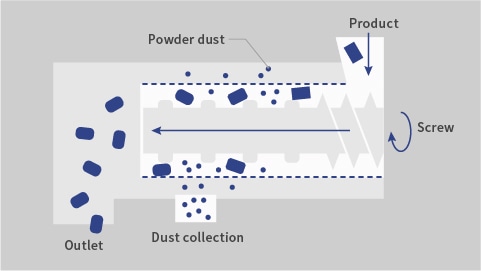 Grinding and friction processing (industrial products)
The machine can remove fine dust, paint film, and other contaminants from the surface of plastic pellets and other materials by rubbing them against each other.
Suitable materials:

Utilizing products:

Plastic pellet surface treatment machine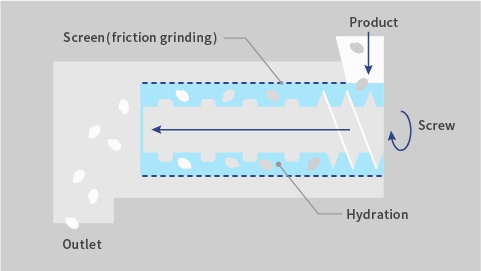 Grinding and friction processing (grain)
There are two types of rice polishing machines: a grinder that removes fines from the surface and makes the material shiny, and a small grinding mill that processes the surface of the material by rotating grinding stones and screens.
Polishing and Grinding Products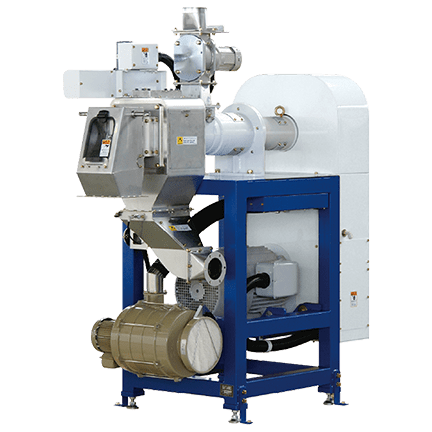 Plastic pellet surface treatment machine PBA25A
This friction processing machine uses milling rollers in the processing section to process the surface of raw materials. Since all grain contacting parts are made of stainless steel, no iron powder adheres to the surface of the raw material.
Optimal materials
Resin pellets

Crushed bumper products

Plastic pellets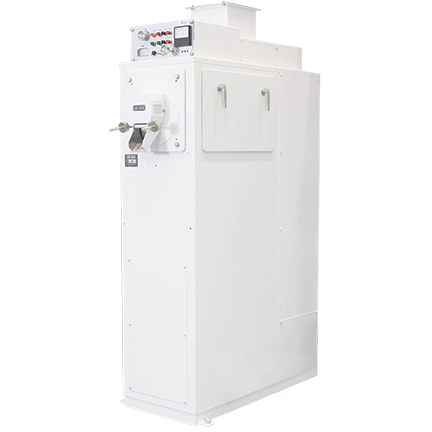 High-performance rice polisher KB7B
For high commodity value glossy white rice
Bran adhering to the surface of white rice is removed cleanly, resulting in the highest quality glossy white rice that could not be achieved with conventional rice polishers. It makes a big difference in the appearance of rice grains.
Improved shelf life
Since the bran is removed from the rice, it is less prone to mold and insects and has excellent storability. The following is a summary of the results of the study.
Effective for old rice processing
Removes the glue dust layer that causes old rice odor. It also improves the taste and appearance of old rice.
Optimal materials
Rice

wheat

Coffee beans (green beans)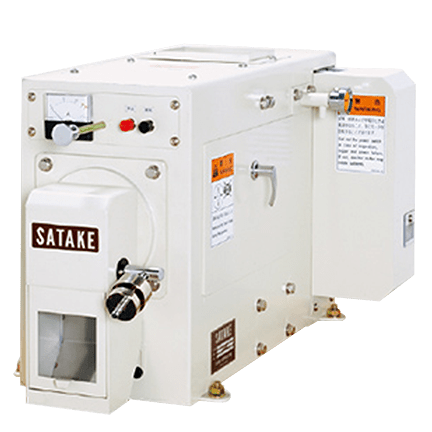 Compact grinding rice milling machine RME25A
Pounding of hard rice (over-dried rice, Hokkaido Class 5), soft rice (high-moisture rice, glutinous rice), and brittle rice (cracked rice, immature rice) definitely increases yield. The machine can also be used in combination with other types of rice milling machines, and the optional residual rice removal device can be installed to prevent contamination problems.
Optimal materials
Rice

Millet

wheat

Buckwheat
Milling
Milling process
Fine particle size milling processing is possible even for very fine raw materials like grains and legumes.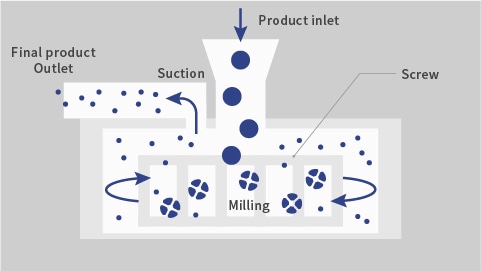 Compact milling unit
The compact milling unit achieves a fine grain size, with an average grain size of 50 micrometers (㎛) for white rice. The unitized design allows for easy installation and operation, as well as easy maintenance. Furthermore, the optional hot-air generator can be used for wet milling, which reduces damaged starch, enabling the production of fluffier baked rice-flour bread and pastries. An impact milling system is used. In addition to white rice, the machine can also be used for brown rice, wheat, buckwheat, and other grains.
Flour Milling Products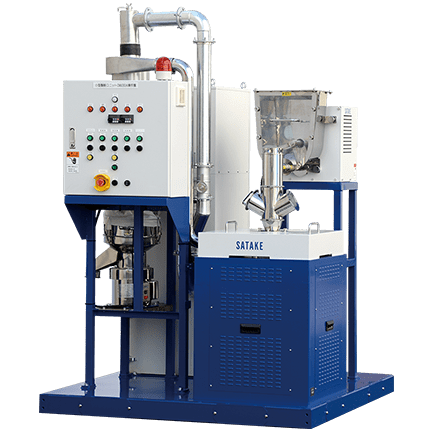 Compact milling unit CMU30A
Compact unit type for fine particle size milling. Various grains including rice and wheat Corresponding to flour milling.
Contact Us
We would be happy to discuss with you the sample testing process, the possibility of sorting raw materials not included in our case studies, or any other concerns which might be solved by our sorting and processing technology. Please feel free to contact us.